Yes, another carb-tastic meal, but at this time of year as the weather gets colder there's nothing more comforting. I still believe 5:2 has to be sustainable in the long term and that means not totally removing entire food groups from your diet! Carbs on a fast day may not be the best idea but it won't kill you and this is a meal you can share with your family & friends.
I used to make this with Quorn mince, but have now realised that what with adding so much oil and beef stock to make the mince edible, I might as well be using real beef mince! I've also taken to using a cheddar cheese sauce in the lasagne to add a good cheese flavour without the need to put excessive cheese on top, or so everyone I've made it for seems to agree.
Ingredients
400g extra lean beef mince (500kcal)
8 lasagne sheets (600kcal)
500g jar Bolognese sauce (220kcal)
Colman's cheddar cheese sauce (310kcal when made up with 300ml semi skimmed milk)
10g crushed garlic (10kcal)
100g chopped onion (40kcal)
100g mushrooms (15kcal)
80g baby plum tomatoes, halved or quartered (15kcal)
2tbsp tomato puree (30kcal)
15g finely grated mature cheddar cheese [or 20g grated mozzarella] (60kcal)
2 bay leaves
Mixed Italian herbs
Fresh basil
Total: 1800kcal for 6 servings (300kcal per serving)
Method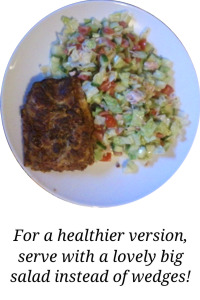 In a saucepan, gently cook the beef mince until it starts to release some fat (not that there's much in the extra lean variety).
At this point, throw in the onion and garlic and allow this to cook in the fat while the beef continues to brown.
When the beef has browned make a 'well' in the middle of the saucepan and add the baby plum tomatoes so they can cook in some of the fat.
Once the tomatoes have had a couple of minutes to soften, add the chopped mushrooms, some Italian seasoning, the tomato puree and stir to coat the meat in the tomatoey goodness!
Now the beef is coated in the tomato & herb mix add the bay leaves and the jar of sauce, allowing the mix to reduce down.
Towards the end of cooking add the fresh basil to taste and season if desired.
Make up the packet of cheddar cheese sauce according to the instructions. I tend to add an extra 50ml or so of water to make it go further for no extra calories.
In a square ceramic dish, place two sheets of lasagne side by side to cover the bottom. Add about a third of the Bolognese mixture (don't forget to remove the bay leaves!) and a layer of the cheese sauce. Now use three sheets of lasagne to begin the next layer, adding Bolognese and cheese sauce above. Repeat the above and top with the grated cheddar cheese and a sprinkling of mixed herbs.
Bake in the oven at around 200 degrees for half an hour.
The lasagne is usually best prepared in advance so it has time to solidify a little, making it easier to cut & serve (re-heat in microwave).
Measure into 6 equal slices for a real fasting day treat!
I serve this with either a large side salad or some home made potato wedges (180g potato for around 135kcal) & peas (80g for 60kcal). You could add a side of garlic bread to bulk this meal out for the family.
If you're planning to have salad with this and can afford some extra calories in the lasagne, I'd suggest adding an extra 100g of the beef mince, more mushrooms and a couple of extra tablespoons of tomato puree.
Enjoy!