For the last 10 months or so I've been saving all my fasting day calories for a nice big dinner of up to 500 calories. As you can imagine, you can have some pretty nice, big meals for 500kcal and this is one I had last week and has been put on the menu again this week! It tastes like real summer BBQ food but lower cal, so filling and good enough to eat on a feed day too! Yes, I did that a few days later, but added a few homemade potato wedges as hubby dearest wanted some.
Fasting dinners don't have to be complicated or time consuming to prepare. They don't have to look like restaurant food to be tasty, filling and most importantly nutritious.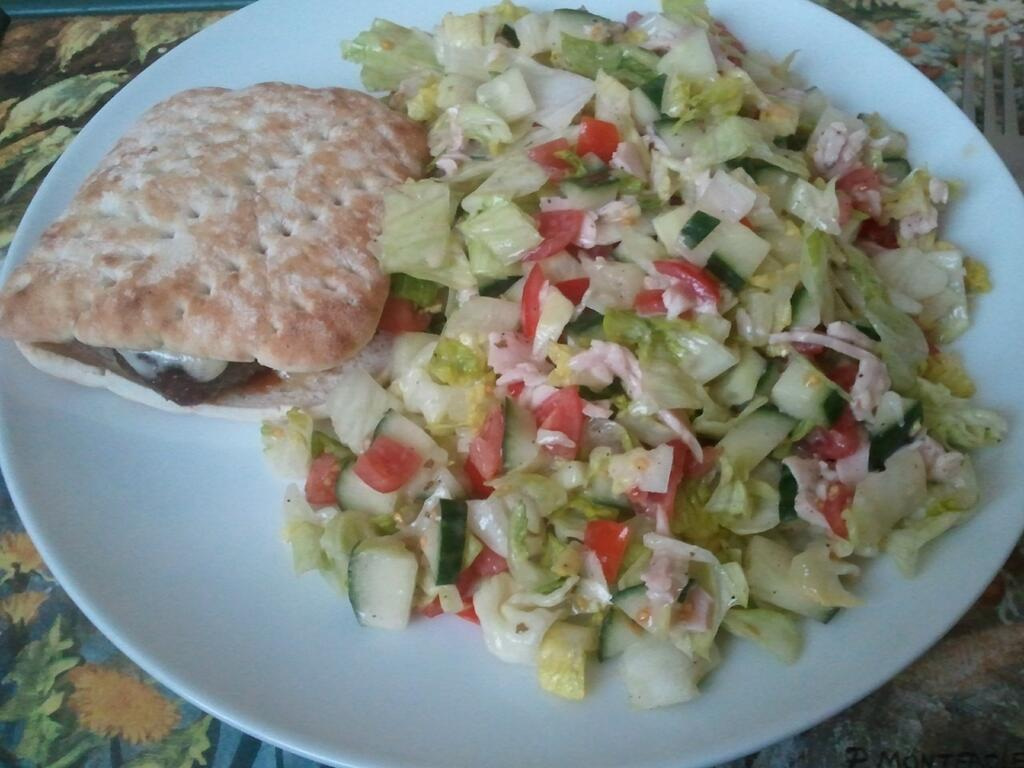 I found a pack of reduced Warburton's Sandwich Thins at my local Co-op and decided they might come in handy for my fasting days at just 100kcal per sandwich thin. They're available in white or brown, but my local shop only had white. Since having a burger in a sandwich thin I've decided they work much better than a typical burger bap or bun, not only in terms of calories but also to reduce bloating and allow you to enjoy the meat more. I for one will make sure these are always in my cupboard from now on!
Anyway, this is what the meal consisted of:
Fasting Day Burger (355kcal)
1 Warburtons Sandwich Thin (100kcal)
1 Grilled Tesco Tomato & Herb Beef Burger (205kcal)
10g Cheddar Cheese (approx. 40kcal)
10g Burger Relish (approx. 10kcal)
The cheese was delicious with the tomato in the burger (I probably didn't even need the relish it was so tasty), I melted it on under the grill after giving the burger a good squeeze to reduce the fat. The sandwich thin was all the nicer for going under the grill for a short spell too, a slightly crispy burger bun, yum!
Of course with such a small amount of bread this wasn't going to be very filling, hence…
Giant Low Calorie Fasting Day Salad  (139kcal)
I like a nice salad dressing, and with the basic vegetables being so low calorie I don't see the harm in making them even tastier with a nice rich dressing! I also like to throw in a bit of extra protein to help fill me up. Oh, and also because I love ham 🙂
100g iceburg lettuce (15kcal)
100g cucumber (12kcal)
80g baby plum tomatoes (16kcal)
1.5tbsp Tesco garlic & herb salad dressing (57kcal)
3 slices Tesco Lean Sweetcure Pork Loin (39kcal)
Salt & pepper